Miami Exterminators, Inc. ®
Tel. 305-870-0661 ~ 305-870-0561
Toll Free, 1-888-870-0661
Fax: 305-691-1137
Current Bug Picture
Yellow Jacket's Head & Mouth Parts.
Insect family : Vespidae ( social nesting wasp). Appearance : Yellow with Black Markings. Feeds on a wide variety of food sources, as carbohydrates are obtained from nectar, honeydew secreted by aphids, scale insects and other insects, and from various fruits. Colony: Usually nesting in muddy ground or near trees. Sometimes they are confused with Bees and Bald-Face Hornets. Link to further Yellow Jackets' information.

IMPORTANT: Disturbing the nest can start defensive and aggressive stinging attacks which can have fatal results to nearby animals or people. -- Species are found in Florida and throughout North & South America.

Cute face, but nasty killers ! Link to Newspaper article: Yellow Jackets Swarm, Kill Man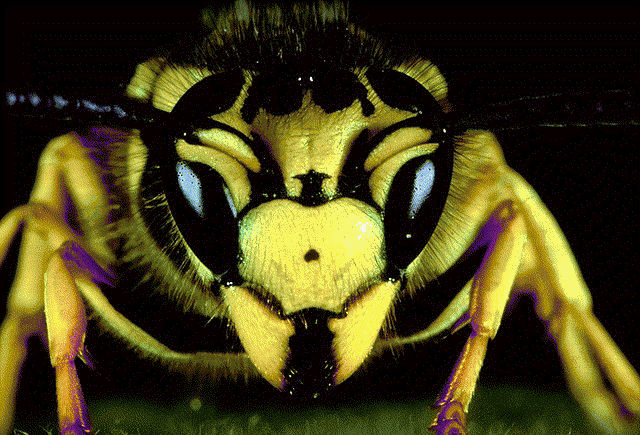 Picture Source: "Zane Publishing - Power CD." 1996.