Miami Exterminators, Inc. ®
Tel. 305-870-0661 ~ 305-870-0561
Toll Free, 1-888-870-0661
Fax: 305-691-1137
Installing and Maintaining Ultraviolet Fly Traps.
For Commercial Accounts Only
Fly Traps

"There are 2 types types of ultraviolet fly traps used in the control and elimination of nuisance House flies, Fruit flies or other flying pests.
Models of light traps incorporated standard light bulbs. Many insects are attracted to ultraviolet, but the main use of this type of trap is in fly control. Ultraviolet rays emitted by professional traps are not harmful to people or pets.
Low profile traps used in dining areas of restaurants and homes do not emit the same amount of UV rays as professional traps used in food preparation areas, receiving areas and warehouses.
There are two basic types of ultraviolet insect traps: Our capture pads are impregnated with a pheromone that helps attract those difficult to control nuisance flies."
1. Ultraviolet Fly Pheromones Traps
Flies (and other bugs) find these ultraviolet rays irresistible.
Lighted insect traps incorporate pheromones and ultraviolet to capture nuisance flies. In food handling areas of restaurants or food processing plants, insect body parts might fall into food if fly zappers are used. Most flies are attracted to this UV light but there are certain flies (such as the vinegar fly) that are not. The pheromones in our capture pads will lure flies that might not be attracted to ultraviolet. By using ultraviolet and pheromones, you greatly increase chances of killing the pests in any given area.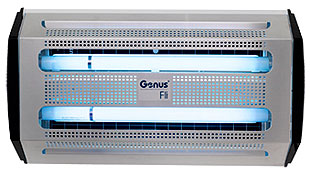 A new generation insect light trap, the Genus® Fli is a strong, powerful and economical performer, providing excellent value in flying insect control. Designed for reduced energy consumption and increased attraction levels, the Genus® Fli is designed to remove flying-insect pests faster.
For a further list of products and information from Brandenburg manufacturer of professional insect control systems that can be installed and in your premises, please visit their website; Brandenburg Manufacturer: http://www.b-one.com/index.asp
---
The Fastest Vector
Achieve rapid fly control in production and storage areas of large commercial facilities and back-of-house areas of restaurants and commercial kitchens with this fast-acting unit. The Vector Plasma is quick, sleek, light weight and delivers 72-watts of insect attraction. The Lift & Service cover makes service and maintenance a snap
---
This website link from Miami ExterminatorS Corp providing information regarding fly catching ultra-violet light traps is CURRENTLY being updated.
For further information regarding the installation and subsequent service management of these units, please contact out office at our Toll Free Number as:
1-888-870-0661 - a representative will provide immediate consultation.
---